Welcome Back, Commander
OpenRA is a Libre/Free Real Time Strategy project that recreates the classic Command & Conquer titles.
We include recreations of C&C (Tiberian Dawn), C&C: Red Alert, and Dune 2000. These are not intended to be perfect copies, but instead combine the classic gameplay of the originals with modern improvements such as unit veterancy and the fog of war.
OpenRA's primary focus is cross-platform multiplayer between Windows, OS X, and Linux; however, we include a number of single-player missions, and also support skirmish games against AI bots.
Latest News
---
Playtest 20150830
Posted by Pavel Penev at 2015-08-30 01:00:00 +0000
---
Another playtest on the road to our next stable release is ready!
Being in a feature freeze, we focused on fixing bugs and inconsistencies reported by community members to ensure the release is as bug-free as possible.
More notable things that got fixed include:
An exploit where spies in RA could infiltrate team mate's structures.
Issues with crushing infantry and walls.
Issues with units entering transports.
Visual errors connected to shroud and fog of war.
For details check out the full changelog.
Grab the installer for this playtest from our download page and give it a try!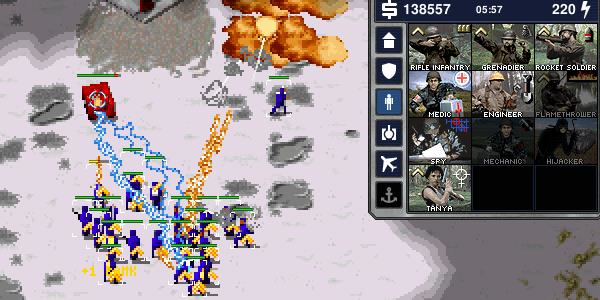 The spy production veterancy overlay has been improved to better fit the RA icon style.
---